ABOUT
OVERVIEW
Bringing ownership in personal data not only in real life but also in Metaverse.
The MetaMCC's user consent platform enables a data subject to exercise the full ownership of his/her personal data not only in real life but also in Metaverse. With this unique feature, an individual can easily manage their own data and receive a fair compensation from the data consumer.
MetaMCC builds a marketplace in real-life and in virtual world (Metaverse) where corporations can get proper access to the most up to date and accurate data.
Corporations can get hands on massive potential consumer data in real-life and virtual world through MetaMCC Ecosystem. The data provided within the ecosystem is in scope and depth unseen before because individuals are willing to reveal their own preferences, the most effective and wanted marketing tool for corporations, due to the MetaMCC's incentive mechanism.
Secured personal and credit data handling and management.
The data handled in the MetaMCC ecosystem will be encrypted and stored in a distributed database. The data will be kept secure since there is no centralized platform to be hacked, and it is automatically deleted after the data is being used.
Trust Data will be produced within the MetaMCC ecosystem.
MetaMCC aims to produce Trust Data, which provides a multi-dimensional depiction of an individual's trustworthiness. Trust Data can be used in not only the financial sector, but in every industry that looks for a means to have a deeper understanding of customers' social and economic value. It will unlock the limitations of traditional credit rating models.
ECOSYSTEM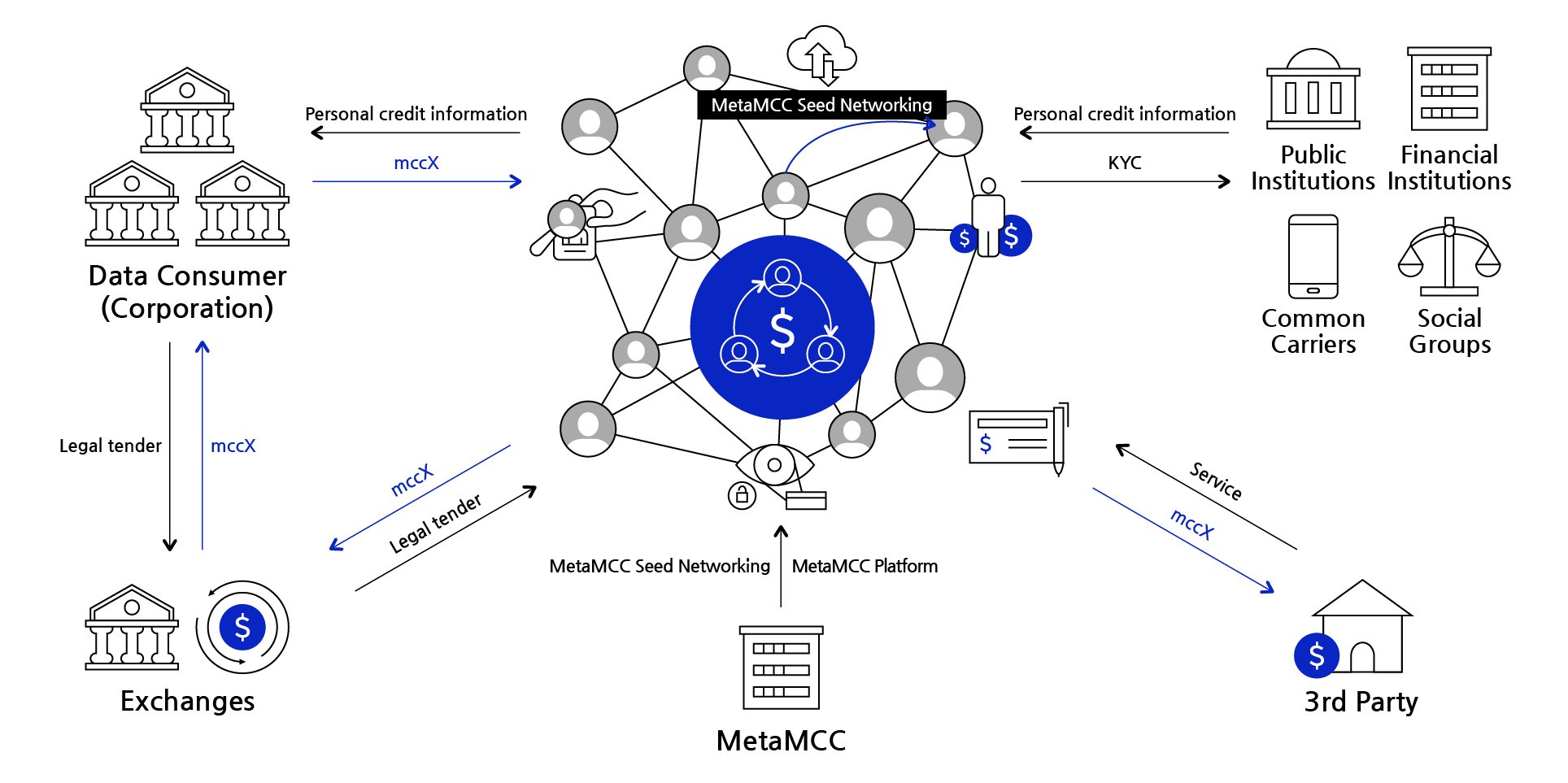 MetaMCC's system is an ecosystem in which personal trust data is generated. This is effective not only in an individual's real life but also in activities in Metaverse. MetaMCC is a blockchain-based platform that includes even Metaverse and aims to unlock the limitations of the centralized system and build a blockchain-based decentralized platform.
1. Revenue shared, fairly and transparently
2. Data-driven marketplace, a win-win situation for every participant
PARTICIPANT
Data Provider

'Individual' in the MetaMCC ecosystem in both real-life and in Metaverse.

Data Providers provide the following data to the ecosystem : Traditional credit information, Personal data, Social/reputation data derived from the Seed Networking.

Easy monitoring and management of their data.
Full control and ownership over their own data, thereby preventing the abuse of the data.
Financial gains by selling the data, and by participating in the MetaMCC Seed Networking.
The record of personal data usage and transaction are managed transparently and easily tractable.

Data Consumer

'Corporation' in the MetaMCC ecosystem in both real-life and in Metaverse.

Data consumers can have an access to the data, specifically targeted for their business purposes, as they pay the data subjects with MCCX.

Easy access to the personal data
Serve various functions, such as product design, implementation of marketing strategies, etc.
Use the platform as a means to get data without the risk and the management cost.
Opening Online Branch.

3rd Party

'Individuals or enterprises' that process the data generated in the ecosystem for various purpose in both real-life and in Metaverse. (Ex: Data Scraping technologies provider, big data analyst, credit bureau, etc.)

The 3rd Party is the participant who provides the required technologies, additional analytical data or additional collected data by utilizing the data in MetaMCC platform. 3rd Party will be compensated for contributing such features to the platform.

Various business opportunities, such as data scraping, processing and analysis, etc.
Creating significant added value to the data by utilizing the data in the ecosystem.
Resale of the processed data for profits.
MECHANISM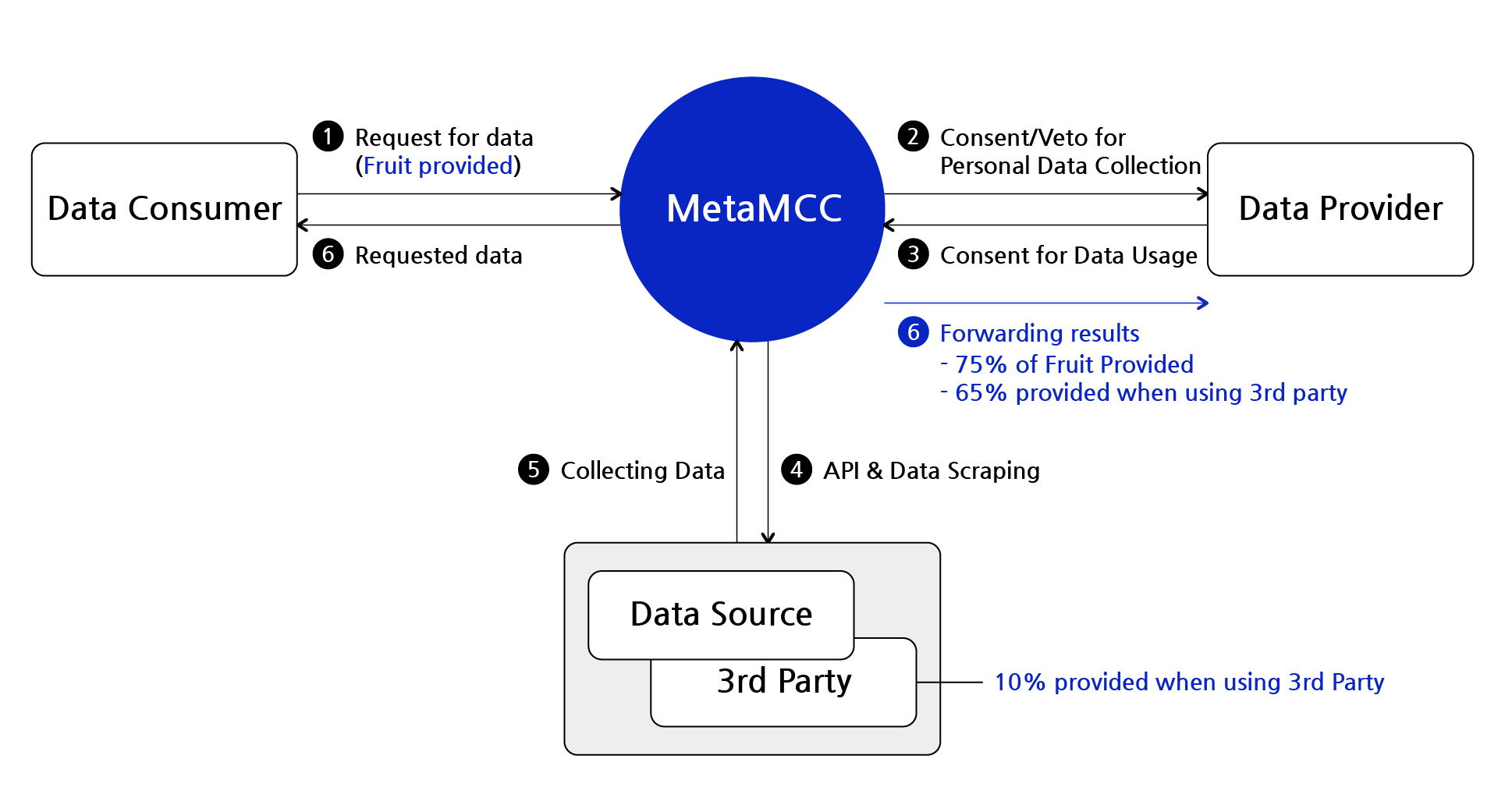 It is the process by which a company requests data in MetaMCC ecosystem. When a company requests personal data, MetaMCC network collects data from including Metaverse, social media, telecommunication companies, public institutions, financial institutions, etc., with individual's approval. In this process, the information buyer pays to the individual and the tokens are shared between the MetaMCC ecosystem participants and the individual.
PRODUCT
GoodMorning
Social Network Service
Greetings friends with seed gift.
Communicate with friends from GoodMorn
and get MCCX!
Go to GoodMorn
Dokdoverse
Metaverse Service
The Korea representative Metaverse.
Get Dokdo certificate NFT at Dokdoverse
Own your territory and house.
Go to Dokdoverse
TEAM
Blockchain and Metaverse Sector
ADVISORS
Minsoo Park
CEO of FINGER
B2C FinTech company that provides the utility of digital financial innovation to individual customers
Gab-Young, Kim
CEO of FINTECH
Credit Rating service utilizing Big Data and Alternative Data of individuals
Obtaining a license for "MY DATA"

Steve Hong
Finance and IT experience
Mirae Asset Financial Group - Hedgefund
Korea Exchange Bank - Investment Banking
Samsung Asset Management - Equity Research
Ilshin Ventures and Private Equity - VC
Woosik Kim
Business consulting
Previous) CEO of Fintech, Inc.
Social Credit Evaluation Expert
New Industry Investment Committee
Previous) Director of the ConvergenceDepartment (Finger, Inc.)
Previous) Hana Bank (Department of Computing & Info Systems)

Sungtae Jin
Seed Networking Analyst
Specialized in Industrial and Mathematical Data Analysis
Postdoctoral Researcher at Seoul National University
Sungkyunkwan University (Ph.D. in Mathematics)

Wonse Kim
Seed Networking Analyst
Specialized in Data Analysis Using R, MATLAB and Published 3 SSCI Papers
Mathematics Technology Laboratory Researcher in Seoul National University
Seoul National University (Ph.D. in Mathematical Sciences)

Kangju Lee
Seed Networking Analyst
Specialized in Combinatorial Topology / High-dimensional Data Analysis
Seoul National University (Ph.D. in Mathematical Sciences)
Yukito C. Nagashima
Big Data Expert
CEO of Apropos LLC
20yrs venture capitalist experience for Health IT startups in Korea/Japan/US
Shinyo Clinic CTO
Sally Kim
Senior Manager in Data biz unit of SKT
SK Telecom Intelligence Biz Center. Social Text Big Data Plafform "Smart Insight"​ PM
SK Telecom Project Leader/ Ph.D
Contact Center Operation Strategy

Gongpil Choi
Future Finance Expert
Univ. of Virginia (Ph.D. in Economics)
CSO of Woori Finance ED
World Bank / ADB (Consulting)
Director OF KCFT
Eddie K. Choi
Big Data Expert
Director of Bigbang Angels
Director of KIISS
Secretary of the Korean National Assembly ICT Forum Committee
Joon Hong
Internet & Mobile Marketing Expert
Current AD4th CEO
Block Chain World · Do not be afraid to invest in block chain broadcasting
FocusM CEO
GS Home Shopping Consultant

Byunghee Son
Computer System Expert
Yonsei University (PH.D. in Electrical Engineering)
Ex-Adj. Prof. of Information Industry at Sejong University.
Ex-Director of the Tech Department (DME Tech, Inc.)
Prof. of Computer Information System at Inha Tech. College

Hajin Jhun
Economy & IT Expert
Chairperson of self-regulation in Blockchain Association
CEO of SITI Plan
Chairman of S-Life Forum
Member of the 19th Korean National Assembly (Former)

Ryan Moon
Online Asset Management Expert
Newsystock Co-CEO
PwC consulting senior consultant
Polaris Hong Kong Asset Management
Draper University Entrepreneurship
PARTNERS
Vietnam-based

Data analysis

P2P lending

Big data analysis

Game Development Company

Collaborating Metaverse with MetaMCC

Startup Capital Consulting Firm

Collaborating Metaverse with MetaMCC

Venture investor in MetaMCC

Cryptocurrency transaction solution
ROADMAP
2018.6.

Token Sales

Private Sale / Free Sale

MVP #1

Block Chain + IPFS
2018.10.

End of Token Sales

Issue Tokens / Distribute Tokens

MVP #2

Data Collection / Processing
2018.12.

1st Stage Service Launch

Sign Up/Seed Network

Member Expansion events

Listing on Token Exchange

Dapp Launch alpha

iOS, Android

Seed Networking

Wallet Development
2019.3.

Service Enhancement

Form Seed network Ecosystem

Excavate Seed Network Parnerships

3rd Party Alliance

Dapp Update

Develop Seed Network Affiliations
2019.6.

Excavation of Data Platform Partners

Dapp Update

Launch Data Platform
2019.8.

Expand Service Partnerships

Dapp Update

Enhanced Data Platform
2019.12.

Dapp Update

Develop MetaMCC Trust Index
2020.2Q

Dapp Update

Main Blockchain transfer

Main Blockchain Review Development
2020.3Q

Goodmorning Renewal

300,000 users of Indonesia

10,000 users of Korea
2020.4Q

Partner with Karaoke APP 'Singit'

Unmanned karaoke, token economy partnership
2021.1Q

GoodMorning 2.0 released

Target of 50,000 domestic users

Public Highest price fruit bidding service
2021.2Q

GoodMorning

Revealing the Open fruit bidding service

Achieved 30,000 domestic users

Highest Price Fruit Bid Disclosed

Strategic investment by Finger

Got 1 billion won investment
2021.3Q

Metaverse project started

Working with NH and Finger

Opened Metaverse about Dokdo

Dokdoverse teaser site opened (www.dokdoverse.kr)

GoodMorning

Achieved 50,000 domestic users

Occurred Average of 150,000 token
transactions per month.
(To be revealed)
2021.4Q

Dokdoverse

1st Pre-registration Start

GoodMorning

Highest price fruit bidding service start

Super Roulette service released(Paid)

Started future balanced development projects

Fruit/token system upgrade for TX activation

Fruit quiz pilot service test
2022.1Q

Dokdoverse

Beta service open

GoodMorning

Fruit quiz service open
2022.2Q

Dokdoverse

Gathered Dokdoverse
66,500 pre-subscribers

Dokdoverse OpenBeta

GoodMorning

MCC & Rocks (for game item) Link
2022.3Q

Dokdoverse

Dokdoverse Grandopen

Add fishing game on Dokdoverse

Advencement for Metaverse

Expande Business Alliance
2022.4Q

Dokdoverse

Topped the popularity ranking of
Google Play's social section

Topped the popularity ranking
of all apps on Google Play

Secured over 180,000 users
2023.1Q

Dokdoverse

Opened a new fishing spot on Dokdoverse

Open fishing contest on Dokdoverse

Secured over 300,000 users (Goals)
2023.2Q

Dokdoverse GoodMorning

Integration of GoodMorn and Dokdoverse users

Integration of GoodMorn and Dokdoverse's wallet

Open Rulette service and mini games on Dokdoverse
2023.3Q

Dokdoverse GoodMorning

Build NFT Market

ESG related On/Off-line Campaign
2023.4Q

Dokdoverse Expansion Pack

Various marketing plans, such as providing special benefits to holders of Dokdo certificate NFT

Begin establishment of personal credit information system in metaverse
2024.1Q

Expansion of platforms such as Space-verse and Marine-verse based on Dokdoverse

Launching NFT platform through collaboration of IP business in Japan

Open NFT Market
2024.2Q

Credit Integration Platform Open Beta (Enabling Friendly Network Engine)

Conduct a rating system with activity-based credit scores